The romance comedy "Hot Summer City" will hit cinemas across China February 11th. Just how hot could this fictitious summer be? On todays' Spotlight, we'll take a preview.
"Hot Summer Days" centers around five separate love stories set in an unusually sultry summer. Correspondingly, the cast consists of 10 popular stars including Hong Kong veteran singer/actor Jacky Cheung, Taiwan pop singer and actress Rene Liu, Hong Kong heartthrob Nicholas Tse, Taiwan star Barbie Hsu, Hong Kong actor Daniel Wu, Taiwan singer and actress Vivian Hsu, and mainland actor Duan Yihong. All will be under the direction of Tony Chen for his first feature film.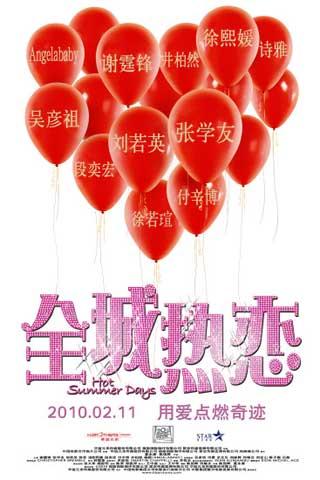 Poster of "Hot Summer City"
In the picture, destiny sets an impossible match between a massage therapist who wants to be a pianist, and a taxi driver whose wife left with their child. Rene Liu and Jacky Cheung take the roles of the couple.
Rene Liu, actress, said, "The story between the role I play and Jacky's happens due to a misunderstanding. It's just a coincidence."
Jacky Cheung, actor, said, "A text message gets sent to the wrong cell phone."
Rene Liu said, "That's how we begin and meet."
Jacky Cheung said, "She might be a lonely woman. First, she has few friends. She has to be a massage therapist to make a living."
"In a world made out of text messages, we become the kind of person we dream of being," said Rene Liu.
Jacky said, "Many stories happen in the part between me and Rene. I think many only middle-aged people might have similar experiences. "