3rd rehearsal for CCTV Spring Festival completed
2010-02-07 14:40 BJT
Special Report: 2010 Spring Festival |
The third rehearsal for the CCTV Spring Festival Gala has been completed. With the festival just around the corner,all the performers are keeping their fingers crossed and still practicing their programs to perfection.
Waves of laughter and applause punctuated the rehearsal of cross talks and short sketches. The country's top comedians have all gathered at this year's gala with their finely crafted work.
Most of the plays are marked with trendy internet-speak and topics close to the daily lives of ordinary people.
Guo Da and Cai Ming, the golden couple on stage, are tackling a hot issue employment for college graduates.They pose a question: what kind of role should parents play in helping young graduates start their careers?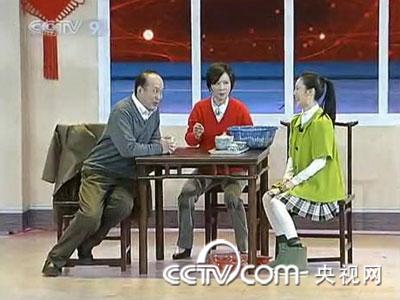 Guo Da and Cai Ming, the golden couple on stage, are tackling a hot
issue employment for college graduates.They pose a question: what
kind of role should parents play in helping young graduates start
their careers? (CCTV.com)