Comic duo rehearse for Spring Festival Gala
2010-02-09 10:29 BJT
Special Report: 2010 Spring Festival |
One of the most highly anticipated programs at the Spring Festival Gala, is the short sketch led by Zhao Benshan. In his first rehearsal at the CCTV studio, Zhao was joined by standup comedian Xiao Shenyang, another gala favorite.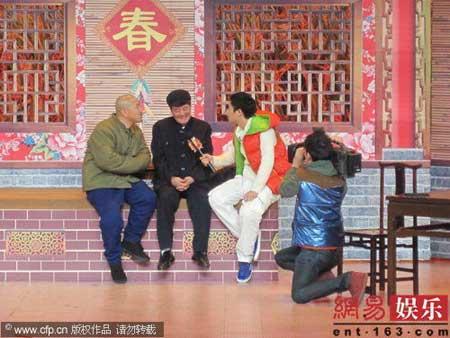 Zhao's sketch "Making Donation"
Zhao Benshan has barely recovered from a brain hemorrhage he suffered in October. But he's braving fatigue to make a much anticipated return to the gala.
Zhao's sketch "Making Donation" is the 25th item on the catalogue of 38 programs. It's inspired by a true story Zhao came across two months ago.
Zhao Benshan said, "This is a mainstream program, which has a positive theme. It features a person's comical adventure to help others. It was a news story I saw when I was in my hometown in northeast China. We dramatize the event onstage."
It's the second time Zhao has collaborated with his apprentice Xiao Shenyang, who plays a TV host this time.
The fifteen-minute sketch is the longest of all the programs. But it keeps the audience's attention with a laugh-a-minute.
An audience member said, "The sketch focused on charity causes, which is a break for Zhao Benshan. "
An audience member said, "While the most attention is focused on Xiao Shenyang, I find his performance a bit restrained. "
Two more rehearsals are scheduled before Saturday's live broadcast.
Related stories