Costumes have been created and performances perfected, setting the stage for the CCTV Spring Festival Gala. A final rehearsal was held on Thursday night, where some familiar faces made finishing touches to their performances.
The fifth and final rehearsal, with the entire Spring Festival Gala lineup.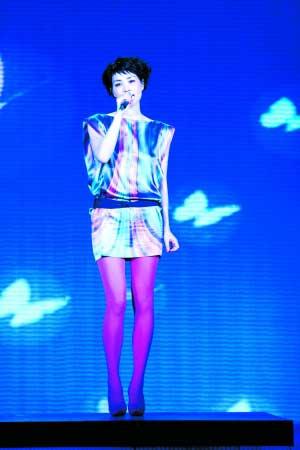 Wang Fei
Singers from Hong Kong and Taiwan like Eason Chan, Lee-hong Wong and Joey Yong were there.
So was mainland pop idol Faye Wong, who emerged from an elevated platform. Her comeback is one of the most highly anticipated at the gala. She hasn't been at any of the previous rehearsals, to keep her performance tightly under wraps.
Finishing touches were made at the final rehearsal, with changes to the length and content of some shows. The name of Zhao Benshan's comic sketch was changed from "Donate Money" to "Aid", and the ending has been modified.
Xiao Shenyang, comedian, said, "The outline of the program can't be changed. But gags are added to my part."
The reunion of pop trio "Little Tigers" is set to be a favorite. The singers seemed more comfortable this time, and well prepared to perform to the hundreds of millions of television viewers.
Little Tigers Trio, said, "At last rehearsal, we didn't expect there to be so many people. We've practiced many times so we're very confident now."
Loyal fans can't wait to watch the year's biggest variety show. The production team is ensuring it will be better than ever before.
Editor: Liu Fang | Source: CCTV.com