Yves Saint Laurent, the master of couture, is back in the headlines less than two years after his death in a major retrospective. The exhibition covers his four decades as a fashion designer whose artistry empowered women.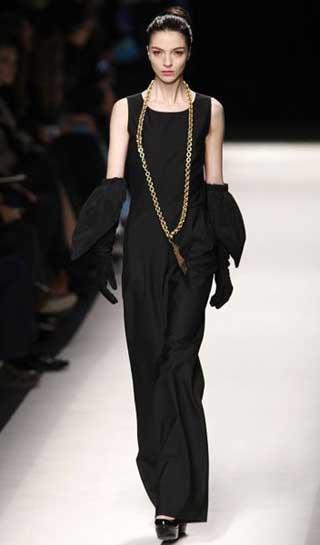 A model presents Yves Saint Laurent autumn/winter 2010/11
collection at Paris Fashion Week.
The tribute to Saint Laurent, who died in June 2008 at the age of 71, opens in the sumptuous halls of the recently renovated 19th century Petit Palais where the city of Paris houses its Musee des Beaux Arts, home to many old masters.
The collection, both haute couture and ready-to-wear, gathers 307 garments, meticulously staged, from Saint Laurent's beginnings with Dior in 1958, to the famous "Trapeze"collection, not forgetting his splendorous evening dresses.
The show also includes sketches as well as audio and video recordings of the famous French designer.
Longtime partner Pierre Berge painstakingly conserved all of Saint Laurent's work, including scraps of cloth.
For Berge, each garment on display reminds him of a specific moment with Saint Laurent.
Pierre Berge, chairman of Pierre Berge-Yves Saint Laurent Found., said, "I walk past the clothes from the Dior period over there, it was the day I met Yves Saint Laurent. And then when I see the reefer jacket with the trousers, that was the day we opened our fashion house in 1962. And all the other clothes remind me precisely and evidently of something."
Yves Saint Laurent revolutionized the female wardrobe: he was known in the design world as a revolutionary who knew what women needed as well as what they wanted.
He famously shook up style rules, borrowing such formerly all male items as the suit, the safari jacket and the tuxedo and brought the attributes of power across the gender line.
His bold concepts still thrive today as a standard item of clothing for many working women.
The exhibition opens March 11th and runs until August 29th.