Sherlock Homles, the latest film from British screenwriter and filmmaker Guy Ritchie, has been playing in China for the past two weeks. The action mystery film, which tells the story of one of the world's greatest detectives, had previously raked in over 200 million US dollars in North America.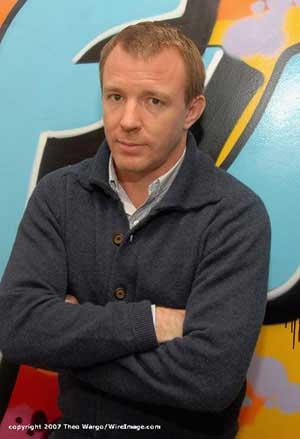 Guy Ritchie
Those who have seen Sherlock Holmes the film, may not find it entirely faithful to the original book. Rather, the film's an enjoyable spin on the character created by the late Sir Arthur Conan Doyle, at the end of the 19th century.
This Sherlock, is a bare-knuckle boxer and man of action, whose phenomenal skills of amateur sleuthing are a virtual sideshow. The film cast Robert Downey Jr. in considerable fight scenes, which is an attempt by Guy Ritchie to balance the original book with a contemporary twist.
Guy Ritchie was born in Hatfield, Hertfordshire England in 1968. He directed a 20-minute short film in 1995 entitled "The Hard Case". His first full-length feature was the successful "Lock, Stock and Two Smoking Barrels" in 1998. The story is a heist film involving a self-confident young card sharp who loses 500,000 pounds to a powerful crime lord in a rigged game of three card brag. In order to pay off his debts, he and his friends decide to rob a small-time gang who happen to be operating out of the flat next door. The film garnered Guy Ritchie international acclaim.
His second feature film Snatch, was released in the year 2000. Originally known as Diamonds, it was another caper comedy, this time backed by a major studio following the previous success of Lock Stock and Two Smoking Barrels. The cast featured Hollywood big names such as Brad Pitt, Benicio del Toro and Dennis Farina. The film is one of the highest grossing films in Britain.
In 2000, Guy Ritchie tied the knot with pop star Madonna, who starred in Ritchie's third film "Swept Away". Ritchie cast Madonna as a rich, rude, socialite who after a shipwreck, is trapped on a deserted island with a sailor who humiliates her. The film was both a critical and commercial disappointment.
Ritchie's next project was a Vegas themed heist film entitled "Revolver", which was critically panned in the US and UK. It was however a underground success in Germany where it was released straight-to-DVD.
In 2008, Guy Ritchie wrote and directed the comedy thriller "RocknRolla".
Ritchie's latest movie, Sherlock Homles starring Robert Downey Jr and Jude Law, was released on December 25th, 2009. The film received generally positive reviews and has grossed more than 460 million US dollars worldwide, becoming Ritchie's most successful film financially.
Editor: Liu Fang | Source: CCTV.com