Turkey Pavilion for Shanghai Expo unveils design
2010-03-24 09:05 BJT
Special Report: Shanghai World Expo 2010 |
The Turkey Pavilion of the 2010 Shanghai World Expo has unveiled its design. The theme is "The Cradle of Civilization", which according to the Turkish side, was inspired by one of the first known settlements in the world.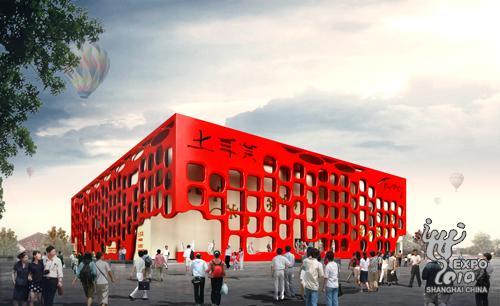 Turkey Pavilion of the 2010 Shanghai World Expo
The Turkey Pavilion covers around 2-thousand square meters. The exhibition will consist of three parts, symbolizing the past, the present and the future.
The Pavilion is an amazing red and beige box with an animal sculpture, inviting visitors to explore a maze of dreams.
The promotional ambassador from Turkey says that the first section will take visitors through a journey of time to learn about Turkey's historical firsts. In the middle section, a 360-degree movie will display scenes from the streets of Istanbul to reflect the pride of the city as the European Capital of Culture. And in the final section visitors will encounter the future, represented by the phoenix, a mythical bird which dies in flames and is reborn from the ashes.
The Turkey Pavilion is scheduled for completion on April the 20th.
Editor: Liu Fang | Source: CCTV.com