3D or not, the most essential element for a movie is the storyline and the main characters in the movie, like a Kungfu master. Now His name is overshadowed by legendary figures like Bruce Lee and Jackie Chan.
Yet in the martial arts world Yip Man is acclaimed as one of the great kung fu masters - and a mentor to Bruce Lee. The 2008 bio-pic "Yip Man" brought the late fighter and patriot into the limelight. Now, a sequel is ready to reveal more about the martial arts legend.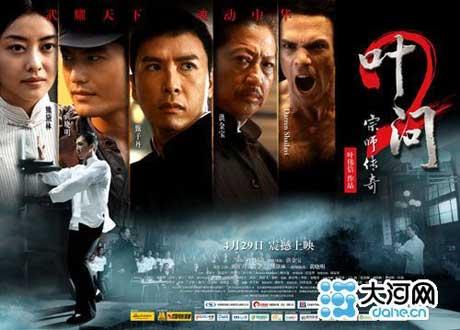 Poster of "Yip Men II, Legend of a Master"
At the Hong Kong Film and TV Expo, leading creators of Yip Man II showed up to promote the second installment on the Kungfu master's life. Attending the press conference were director Wilson Yip and leading actors Donnie Yen and Lynn Hung, who played the title role and his wife in the story.
"Yip Men II, Legend of a Master" picks up after the story of the first installment and focuses on Yip Men's experiences in Hong Kong following the Second World War. Yip Man was a follower of the Wing Chun martial art -- a kung fu style that emphasizes kicks. It was during his years in Hong Kong that he gave the distinctive style wide prominence. Donnie Yen, who has won high recognition for his performance in the first installment, is confident about the upcoming production.
Donnie Yen, actor, said, All of us have done our best in making the movie. All out efforts in the project have been sincere. I believe filmgoers will see that in the movie. As an actor, I did all within my power to make the role compelling. I've played in lots of movies. Past achievements are no pressure for me. I think I can handle that. I hope the movie will provide high quality entertainment for the audience.
Following the success of the first installment on Yip Man, there have been a string of movies and TV dramas about the kungfu master. Donnie Yen says he's glad to see the increasing popularity of martial arts culture. He hopes his own movie will both satisfy popular curiosity and achieve high artistic standards.
Yip Men II is set for release on April the 29th, prior to the May Day holidays.
Related stories