When it comes to folk art, China has about as much variety as anyone could hope for. In fact, it has 56 ethnic groups with Han being the largest.
Each ethnic group has its own traditional clothing, food, music, and dances. Let's take a look at an event that's currently taking place in Beijing, featuring the cultural diversity of China's ethnic minorities.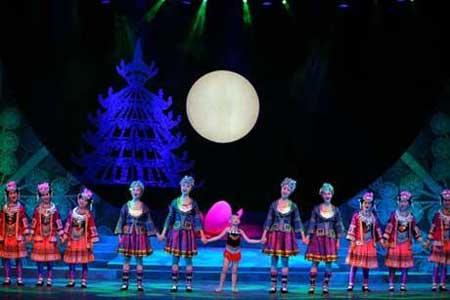 Folk artists who live in the region's rugged mountains and valleys have brought
their rich musical traditions to Beijing.
These ethnic minority singers have not received any professional music training. They are simply singing the song which was sung every day while going up to the mountains or working down in the fields. So many people representing their ethnic groups here have raw talent.
Zhang Qingshan, Chinese Arts Research Institute, said, "Among more than 2000 professional ethnic performers, the vast majority are folk singers or dancers. They are from the grassland and the villages. A large part of what they are presenting on stage is just what they do everyday in their real lives."
Lack of commercialization means many ethnic cultures in China are not well promoted and are little known even inside China. Experts are discussing ways to package and promote these performers from ethnic minorities. But some fear if these performers are over commercialized, they would lose their originality.
Tian Qing, cultural heritage expert, said, "Talking about originality, these singers' performances on stage are not exactly the same as what they do everyday. But the adjustment must be within a certain extent, otherwise, they lost their original flavor and their roots."
Other experts say commercialization is not the problem but the solution.
They say, to better preserve ethnic culture, these performers should tour the country giving performances. Media should also give them more exposure.
Related stories