Cultural exchange across the Taiwan Straits has been gaining momentum since the new year. It started with the Taiwan stage production "The Village", which struck a familiar chord with the Mainland audience.
The event was followed by the sensational premiere of "Turandot" in Taichung, Taiwan over the weekend.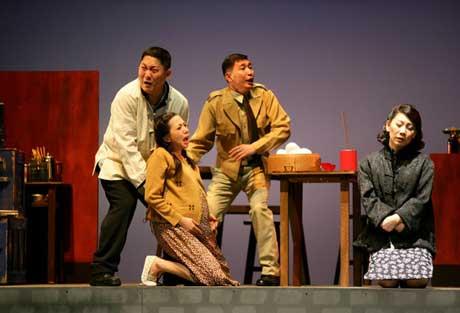 Still of Stan Lai's "The Village"
"The Village" tells a heartwarming story in the 1940s, when Taiwan saw an influx of new immigrants from the mainland. The veteran soldiers and their families were subsequently housed in what came to be called Dependents' Villages. The story follows the joys and sorrows of three village families over three generations. The play performed to 1,700 audience members during its Beijing premiere.
An audience member said, "I lived just across the Straits in Fujian province. Their customs, ways of speaking and folk culture are very similar."
"I shared the same experience and cultural background as the characters in the play. I have not seen such a good show for a long time," said an audience member.
Stan Lai, director of "The Village", said, "The playwright Wang Weizhong and his parents are all born in Beijing. So it's like a show coming back home."
At the Taichung Intercontinental Baseball Stadium on Saturday and Sunday night, "Turandot" premiered to an enthusiastic reception in Taiwan.
Turandot's line up includes more than a thousand performers from the mainland and Taiwan, making it one of largest-ever cross-Straits art collaborations.
A Taiwan Sports University teacher said, "The University has allocated a stadium for the students to rehearse."
Tickets to the two performances sold briskly. And local hotels were crowded with audience members traveling from nearby cities.
Another ensemble production is also heading for Taiwan. The 50-act Kunqu opera "Palace of Eternal Youth", headlined by actors from Shanghai Kunqu Opera Troupe, will premiere in Taipei from Wednesday to Monday.
Related stories