Joint African Pavilion unveils design
2010-04-02 09:11 BJT
Special Report: Shanghai World Expo 2010 |
Preparation work for interior designs of various pavilions is in full swing. The Joint African Pavilion unveiled its design Wednesday in Shanghai and promises to be an outstanding bazaar for visitors from near and far.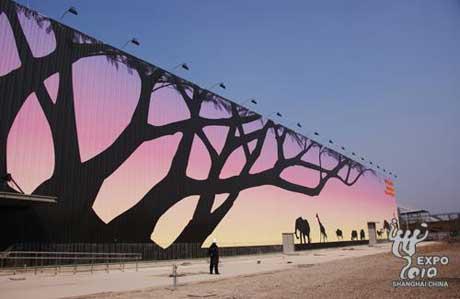 Joint African Pavilion
The Joint African Pavilion consists of exhibitions provided by 42 African countries including Angola, Ethiopia, Cameroon, Zambia, and Sudan. The Pavilion embraces the theme of "The Great Ballad of Africa". It aims to represent the cultural diversity, solidarity, and the rosy future of the African countries.
Welcoming visitors at the entrance of the Pavilion is "Lucy", a 3-and-a-half million year old fossil of a female hominid. She was discovered in Ethiopia in 1974.
The Joint African Pavilion also features exhibits that capture the essence of African culture, such as wooden sculptures, stone sculptures, porcelains, and African garments in a variety of colors.
Editor: Liu Fang | Source: CCTV.com