Normally, parents watch their children play with toys like the popular Lego bricks and dream they might some day move on to a successful career as a lawyer or something. Well, the man in our next story did indeed follow that path, but in the opposite direction.
New York lawyer Nathan Sawaya was often told not to give up his day job.
Especially not if he was just going to play with Legos.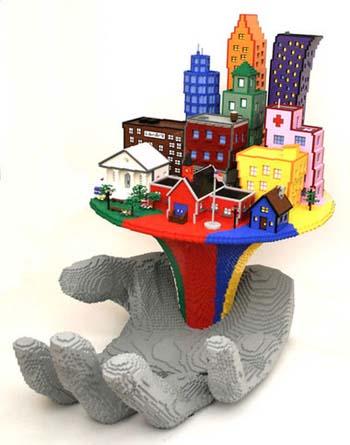 Nathan Sawaya and his Legos
Nathan Sawaya, Lego artist, said, "I was getting commissions from all over the world to do Lego art, and it was really the day my web site crashed from too many hits that I realized, it's time to leave the law and go play with bricks all day."
When he was 36 years old, Sawaya resigned his position as a high-flying corporate counsel to pursue his dream of one day showcasing his own art exhibition -- created entirely out of Legos.
At his studio in Midtown Manhattan, the litigator-turned-handicraftsman is surrounded by boxes and boxes of colorful toy bricks.
Nathan Sawaya said, "To see artwork is something all new. To see emotion displayed there is all new. But that was my goal on a certain point -- to take Lego to some place it's never been before -- that's into the museum, that's into the fine art gallery, and it's working out."
Six years after leaving his post as an attorney, Sawaya is now basking in the success of opening his first solo show, an event completely composed of plastic pieces.
The display features life-size synthetic moldings that focus on the human form.
Each figure, made up of approximately 150-thousand Legos, took two to three weeks to finish.
At a going rate of 10-thousand US dollars apiece, the sleek sculptures are also netting unexpectedly good money for the innovative block builder.