Public sculpture is usually regarded as a symbol of a city. They stand prominently in the photos taken by travelers, or make a good spot for the older generation to tell the younger ones about history. So, what are the 'must-see' public sculptures in China?
An exhibition in China's National Museum of Fine Arts offers an answer.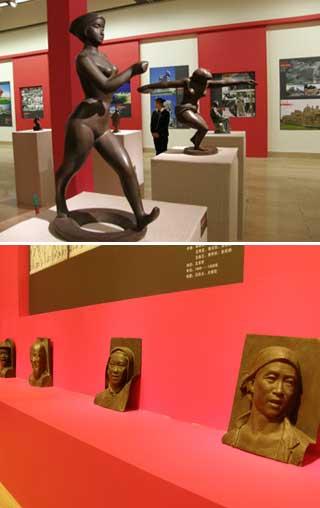 Photo taken at the exhibition in China's National Museum
of Fine Arts
Over a 12-day exhibition, tens of thousands of visitors from around China saw the changes in the country's public sculptures and the forces behind them.
Also, at the conclusion of the exhibition, the museum handed out China's Public Sculpture Achievement Award. It's the first of its kind, co-organized by the Ministry of Culture and the Ministry of Housing and Urban-rural Development.
The final 60 pieces were selected from more than 900 entries from more than 600 cities across China. The winning pieces fall into three categories: they record big historic moments of China, display the beauty of the landscape, or are the symbols of their cities.
A public sculpture in a city is usually treated not only as a landmark, but as a treasure of a city's memory and a point of cohesion for the residents' memory and emotions.
The Monument to the People's Heroes erected at Tian'anmen Square is a good example. Led by the chief designer Liu Kaiqu, the sculpture was the brainchild of China's most excellent artists and sculptors at the time. The masterpiece blended China's traditional carving art and western realism.
Over the past 60 years, public sculptures helped to record the changes since new China was founded in 1949. In recent years, new materials are being used and high-tech methods are borrowed to expand the expression of the frozen art.
Related stories