On April 24th, Russia's Moscow Bolshoi Theatre troupe is going to stage Tchaikovsky's opera "Eugene Onegin" at Beijing's National Centre for the Performing Arts.
On Tuesday, opera fans were treated to a typical Russian feast as some of the delicacies from the opera were served up in advance at the center.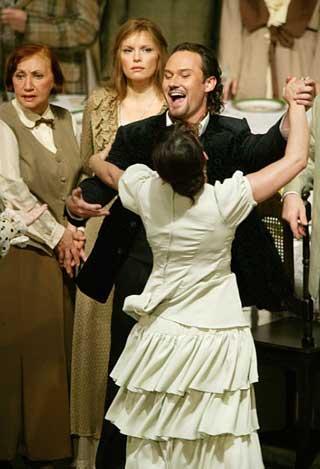 Still of Moscow Bolshoi Theatre's "Eugene Onegin"
(File Photo)
Mouthwatering dishes, delicate desserts, and fine champagne, these are not only props to be used on stage for the opera "Eugene Onegin", but a genuine feast with a traditional Russian flavor.
A major set of the opera is a posh restaurant where actors are dining and chatting around a huge table.
To give the scene a life-like feel, the Bolshoi Theatre has handed some Beijing chefs the mission of cooking real Russian food as props for the opera.
Now, the chefs with the National Centre for the Performing Arts have sought advice from Beijing's best Russian restaurants in order to prepare the most authentic Russian dishes.
NCPA chef said, "We have only heard about some of the Russian dishes, and have never tried to make one. But finally the Russian side expressed satisfaction about what we have cooked. We hope the dishes can help the opera be played to perfection."
Tchaikovsky's "Eugene Onegin" premiered in 1879 and has broken all records for opera production longevity. This will be the first time that Chinese audience have seen a full-length opera, transported entirely from the Bolshoi.
Related stories