As the opening selection for the Beijing Student Film Festival, "Yip Man 2", the sequel of last year's biopic about Kungfu master Yip Man, is getting a lot of attention even before its general release at the end of April.
Based on the success of the first installment, producers have high expectations for "Yip Man 2". Next, Culture Express shines its spotlight on this highly anticipated movie.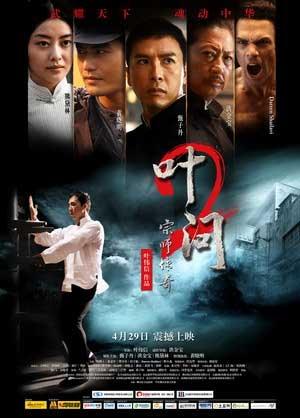 Poster of "Yip Man 2"
"Yip Man 2" sees the re-pairing of Director Wilson Yip and kung-fu star Donnie Yen as they try to repeat the magic of the original award-winning Yip Man blockbuster. The sequel will be released next Thursday, April 29th, and run through the May-day holiday.
The sequel is about Yip Man being elevated from a master and hero, to a grandmaster. The plot focuses on disputes between the disciples of two schools of Kungfu... Yip Man's school Wing Chun and another, Hung Ga. The conflict and rivalry between the two practitioners is ultimately set aside as they combine forces to fight against British colonial rule in Shanghai.
Besides the director Wilson Yip and lead actor Donnie Yen, co-stars Lynn Xiong, Simon Yan, and Louis Fan reprise their roles from the first installment. Some new cast members include Huang Xiaoming and Sammo Hung. Huang plays an outstanding disciple of Yip Man. But making a film is challenging for him... in real life, Huang is a layman of Kungfu.
Huang Xiaoming, actor, said, "On the first day I fought with Donnie Yen, I knew it was not a job that could be done by normal people. I was about to quit. It was not like fighting with a dummy, cause a dummy would move if you strike it. But his arm is totally hard, there is no way to slack off even a little."