Their music is simple, just like their character.Their music carries the spirit of the Yunnan-Guizhou Plateau. Their music takes you back to a land of legend.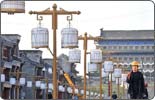 The rise and fall of 1100-year-old brand fondly remembered where these old people were born.




Ma Weidu, a famous Chinese antique collector, hosts a popular TV programme on CCTV, sharing his experiences in antique collection with his audience.
Signs of cultural development, Home of progressive artist, A once-growing industrial base, A time of innocent dreams, A time of pride and glory, A time of passion and romance, 50 years of change, Past and present, An image of China´s reform.
Shenzhou 7 was the third human spaceflight mission of the Chinese space program. The mission, which included an extra-vehicular activity (EVA), marked the commencement of the second phase of the Chinese government´s Project 921.
To commemorate the 15th anniversary of diplomatic relations between China and the Republic of Korea, and to celebrate the China – ROK exchange year, CCTV International brings you a special series of documentaries produced by KBS.