The world's eyes are currently fixed on a replica of the legendary 18th Century Swedish merchant ship, the "Gotheborg". It has travelled from Sweden's Gothenburg, via Spain, Brazil, South Africa, Australia and has finally arrived in South China's Guangzhou city. Xu Linlin takes a look at the ancient story behind the voyage.
The legendary Swedish merchant ship began her maiden voyage in 1732 from the Swedish port of Gothenburg to Guangzhou. She made three voyages to Guangzhou in mid 1700s, pioneering trade between Sweden and China.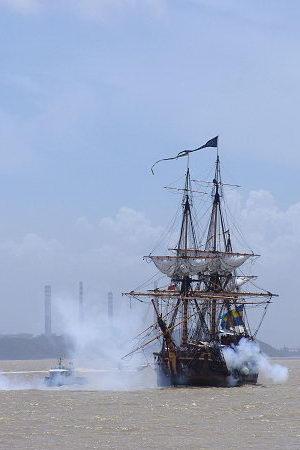 The replica of the Swedish merchant ship Gotheborg
arrives Nansha harbour in Guangzhou, south China's
Guangdong province July 18, 2006.
On its last return trip in 1745, tragedy struck as it smashed into rocks 900 meters from its destination.
The wreckage of the ship was recovered in 1984. The discovery led to the idea of rebuilding a replica of the ship by using the same traditional techniques and materials. And then sailing it to China.
Its replica, Gotheborg III, has an overall length of 58.8 meters and a width of 11 meters. It is carrying 80 crew members. The bottom cabin of the boat has been turned into a museum where cultural items featuring Guangzhou's history as a maritime trading route are displayed.
It departed from Gothenburg in October last year bound for China. It will stay in Guangzhou for one month.
The Gotheborg symbolizes 260 years of friendly relations between Sweden and China, and would promote exchanges between the two countries.
The Guangzhou government has planned a series of ceremonies to welcome the Gotheborg III during the ship's one month stay.
A Swedish delegation, led by King Carl XVI Gustaf and his Queen, are visiting Guangzhou on board the ship Gotheborg to meet local people.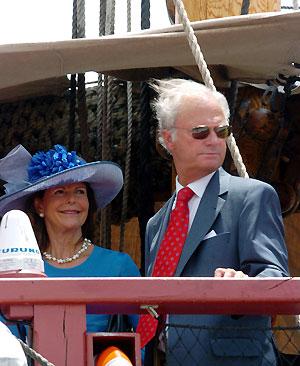 The Swedish King Carl XVI Gustaf and the Queen
Silvia of Sweden arrives in Guangzhou Nansha harbour
on July 18.
Editor: Chen Minji | Source: CCTV.com