President Hu meets Malaysian PM on bilateral ties
2009-11-11 13:25 BJT
Special Report: Hu Visits 2 Nations, Attends APEC Summit |
Chinese President Hu Jintao and Malaysian Prime Minister Najib Tun Razak met on Wednesday to discuss further development of strategic and cooperative ties between the two countries.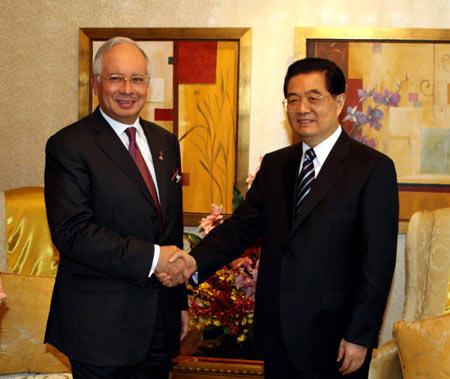 Chinese President Hu Jintao (R) shakes hands with Malaysian Prime Minister
Najib Tun Razak in Kuala Lumpur, Malaysia, Nov. 10, 2009.(Xinhua Photo)
The two leaders also exchanged views on other issues of common concern. Hu Jintao arrived in Malaysia on Tuesday for a state visit, the first by a Chinese head of state in the past 15 years. He expressed the hope that his visit will help enhance mutual understanding and friendship, strengthen mutually beneficial cooperation and take China-Malaysia strategic and cooperative relations to a new level.
China-Malaysia relations have developed smoothly since the two countries established diplomatic relations 35 years ago. Malaysia has become China's largest trading partner among members of the Association of Southeast Asian Nations, or ASEAN.
Later in the day, President Hu Jintao will fly to Singapore for a state visit and to attend the informal leadership meeting of the Asia-Pacific Economic Cooperation scheduled for Saturday and Sunday.
Related stories