Dubai's debt problems have shaken European banking shares, despite the emirate's efforts to minimize the impact of a debt restructuring plan at two of its biggest companies.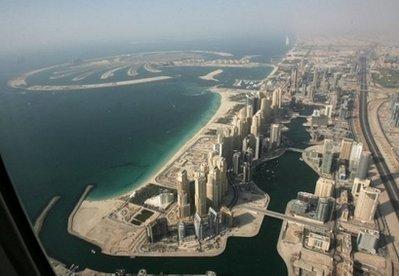 An aerial view shows the man-made Palm Jumeirah island (background)
and the Madinat Jumeirah resort in the oil-rich Gulf emirate of Dubai,
September 2007. Global equities slumped Thursday, with Europe down
three percent after Dubai's shock call to suspend the debt of a
key state company fuelled anxiety about excessive public borrowing,
analysts said.(AFP/File/Karim Sahib)
Bank shares, which have recovered over the last six months on hopes the worst of a global economic crisis is over, fell to lows not seen since May on fears of their exposure to Dubai.
The country, whose extravagant building projects have been largely put on hold since the crisis, said on Wednesday that it would ask creditors at flagship firm Dubai World and property developer Nakheel, to delay repayment on billions of dollars of debt.
Wednesday's announcement sent the cost of insuring Dubai's debt against default soaring and bond prices tumbling.
State-run Dubai World has 59 billion US dollars of liabilities, a large proportion of Dubai's total debt of 80 billion US dollars.
Analysts expect financial support from deep-pocketed Abu Dhabi, a neighboring member of the United Arab Emirates, to keep Dubai afloat. But Dubai will most probably have to abandon an economic model that focused heavily on real estate investment and inflows of foreign capital.
The announcement appears to be timed to minimize its impact on regional markets. It came after the stock market shut and just before the eve of the long Eid al-Ad holiday, which will close many firms and government offices in Dubai and the Gulf until the 6th of December.
Dubai's economy has been hit hard by the global credit crunch over the past year, ending a six-year boom in the region and sending the emirate's once-flourishing property sector into decline.
Editor: Zhang Ning | Source: CCTV.com