Changing pace now and while most people in the west celebrate the Christmas season, Jewish people around the world celebrate Hanukkah. The holiday can start as early as November to as late December.
The world's largest menorah was lit on Sunday at the White House.
The lightning marked the Jewish holiday of Hanukkah, also known as the festival of lights.
This year's ceremony marked the 30th annual lighting of the National Menorah.
Thousands of kilometers away in Europe, more than 400 people gathered at a Moscow night club on Sunday, to attend a candle lighting event.
After each participant lit four candles, the club goers set a new world record for lighting the most number of candles simultaneously.
Local Resident, Moscow, said, "I want to wish everybody a happy holiday, so that the fire of joy and happiness will always burn in every family."
In the Middle East, people celebrated the event in a different way.
A unique party, blending Christmas, Hanukkah and Eid El Adha traditions, took place at the Save a Child's Heart home in Azur, near the Israeli city of Tel Aviv.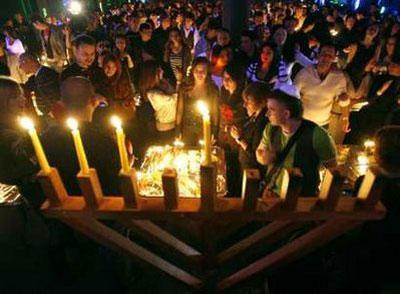 A youth crowd in a Moscow club celebrates the Hanukkah December 13,
2009.Hanukkah, also known as the Festival of Lights, is one of the
most important Jewish holidays and is celebrated by Jews worldwide.
REUTERS/Sergei Karpukhin