Mazu Temple: Macao's goddess of peace
2009-12-17 13:38 BJT
Special Report: Macao 10 Years On |
A-MA culture is one of the characteristics in Macao. And the A-MA, or Mazu, Temple is a must-see for any tourist. What is the attraction, and what is its origin? CCTV reporter Liu Ming is there right now to tell us about it.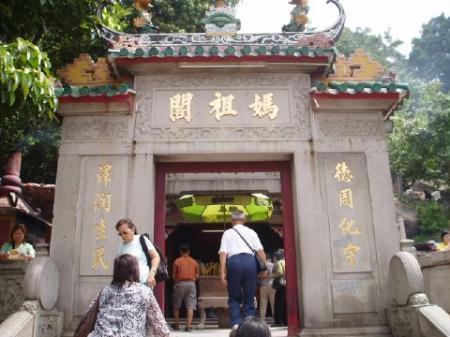 The A-MA, or Mazu, Temple is a must-see for any tourist.
Q1: Liu Ming, please give us a brief introduction to the A-Ma Temple.
Liu Ming: The A-MA temple behind me has a history of more than 500 years. It's located in the northeast of Macao, facing the sea and situated on cliffs. A-MA means "Mother" in the Fujian Dialect. Legend has it that there was a woman living in the Song Dynasty, about 1,000 years ago. She was believed to know magic and saved many ships at sea from sinking. People built this temple to honor her. She has become the symbol of benevolence and love. To date, there are close to 4,000 A-Ma temples all over the world, with over 200 million followers. A-MA was honored by the United Nations as a Goddess of Peace in the 1980s. A-Ma culture has become an international cultural phenomenon, Tian Wei.
Q2: What do visitors do at the A-Ma Temple?
Liu Ming: The best time to come here is around Chinese New Year and the 23rd day of the third month of the Chinese lunar calendar. That's A-Ma's birthday. During these two times, many people from different places come here to pay their respects to the goddess by burning incense. Even on ordinary days, the A-Ma Temple welcomes a lot of tourists. They pay their respects to the A-Ma Statue, praying for good luck, good health, a happy family and many other blessings. It's believed that all the wishes will come true one day. Local residents say that many people have a shrine to A-Ma at home and burn incense every day. With all the incense burned daily at the temple, you can see that the hill is clouded with smoke, which is regarded as sacred and a blessing. So you must come here to make your wishes when you are off work.
Editor: Zhang Ning | Source: CCTV.com