President Hu Jintao reviews PLA troops in Macao
2009-12-20 12:22 BJT
Special Report: Macao 10 Years On |
President Hu Jintao reviewed the Chinese People's Liberation Army troops that are stationed in the Macao SAR, to commemorate the tenth anniversary of their presence in the city.
The PLA Macao Garrison moved into the SAR to mark its historic return to China, on December 20th, 1999.
According to the Law on stationing troops, the mission of the PLA is to defend the special administrative region by "preventing and resisting aggression; safeguarding the security of Macao; undertaking defense services; managing military facilities; and handling related foreign military affairs."
The PLA can also be called upon by the chief executive to help maintain public order and assist with disaster relief efforts. Over the past 10 years the Garrison has observed the Basic Law of Macao and the law governing its presence in the SAR.
By contributing to the prosperity and stability of the city, the PLA's Macao Garrison is a symbol of the Chinese Government resumption exercise of sovereignty over Macao.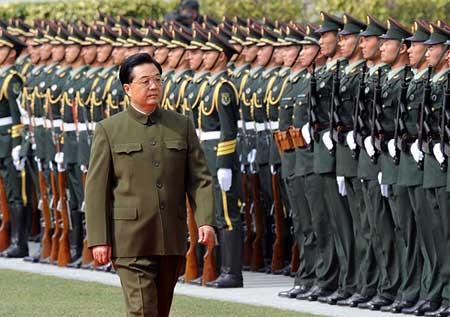 Chinese President Hu Jintao, also general secretary of the Central Committee
of the Communist Party of China (CPC) and chairman of the Central Military
Commission, reviews the People's Liberation Army Garrison in Macao Special
Administrative Region (SAR)on Dec. 20, 2009.(Xinhua/Song Zhenping)