Giant pandas Tai Shan and Mei Lan have been living in the United States for several years. But they will leave the US and go to China on Thursday for a breeding programme.
On Saturday, many zoo visitors and panda enthusiasts said goodbye to these two star attractions in Washington, D.C. and Atlanta.
As snow fell in Washington, D.C., hundreds came to the Smithsonian's National Zoo to say farewell to Tai Shan, a four and a half year old male giant panda.
Under an agreement with the Chinese government which brought Tai Shan's parents to Washington, it was agreed that any offspring would be sent to China to enter a breeding program.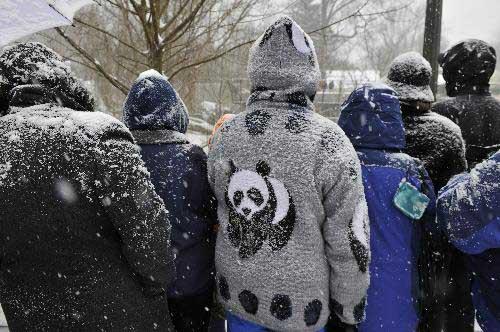 People take a farewell glance at Giant panda Tai Shan during a farewell party at
the National Zoo in Washington D.C., the United States, Jan. 30, 2010. Hundreds
of fans braved heavy snowfall Saturday to express goodbye to Tai Shan. Tai Shan,
born at the Natiional Zoo in 2005, will be carried back to China by a U.S. FedEx
cargo plane on Feb. 4.(Xinhua/Zhang Jun)