Expo construction on track
2010-02-11 13:35 BJT
Special Report: Shanghai World Expo 2010 |
With 79 days to go before the 2010 Shanghai Expo, much of the construction is now complete. The steel structure is finished on 18 of the 31 Chinese pavilions, including Beijing's.
The Beijing pavilion has been nicknamed "the transformer", because it can change its shape.
Xu Yuwei, Director of Beijing Coordinating Office, said, "To demonstrate the changing nature of the capital, the pavilion will change its appearance to represent the Bird's Nest, the Water Cube, the National Theatre and the Temple of Heaven."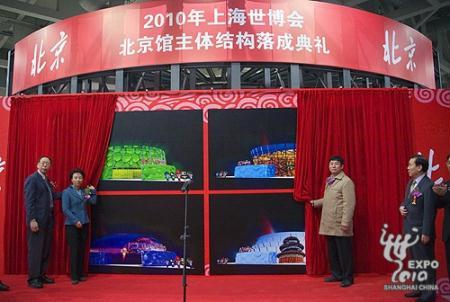 Cheng Hong, vice mayor of Beijing and a senior official in charge of
Beijing's Expo participation, and Hong Hao, director of the Bureau of
Shanghai World Expo Coordination, unveil the artist's rendition of
Beijing's exhibition.