Chinese-Filipino celebrate New Year
2010-02-15 14:08 BJT
Special Report: 2010 Spring Festival |
As all of China is caught up in a festive mood, the same happy feeling is shared by many neighboring countries. Next, we will visit the Philippines to see how people there celebrate Chinese lunar new year.
Ivan Man Dy, said, "It has gone through an evolution, a phase of adapting while maintaining its ancestral tradition. Shows how seamless Chinese and Filipino cultures have blended over the centuries."
Ivan Man Dy, said, "You see it everyday in the way we speak, food that we eat, in the bloodlines. Historically we have a lot of intermarriages. "
Borgie Uy, Chinoy Student, said, "I like this event because I feel like that there are no boundaries between Filipinos and Chinese. We are all celebrating, we're just happy and we're having fun. "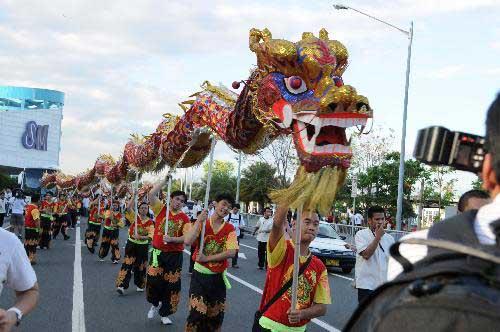 People perform dragon dance to welcome the Chinese traditional lunar New Year in
front of the biggest shopping mall of Philippines in Manila, Feb. 13, 2010.
(Xinhua/Tan Weibing)