Order being restored in quake zone
2010-03-03 13:26 BJT
Special Report: 8.8 Magnitude Earthquake Hits Chile |
Chilean military and emergency authorities insist that social order is gradually being restored in the quake-hit city of Concepcion. More troops have been deployed there to stem looting and rising crime.
Thousands of troops have reinforced local police.
Chilean President, Michelle Bachelet, called for patience as food and aid supplies arrive at the quake zone.
Michelle Bachelet, Chilean President, said, "Our principal objective is to bring relief to people in the disaster areas. Those who obstruct these efforts will be dealt with by the law because we will not tolerate such actions."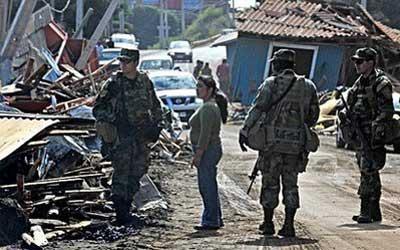 Rescue crews remove a dead body from a destroyed building in
Concepcion, Chile, Monday, March. 1, 2010. An 8.8-magnitude
earthquake struck central Chile early Saturday.
(AP Photo/ Aliosha Marquez)