Amateur video captures Chile earthquake
2010-03-03 13:26 BJT
Special Report: 8.8 Magnitude Earthquake Hits Chile |
A disco club in Chile's capital, Santiago, has released an amateur video, recording the very moment when the earthquake struck.
The shaky footage shows the scenes of panic,with dozens of party goers rushing for the doors as the ceiling began to cave in.
Another video captures the ocean's rolling surface as an aftershock occurred.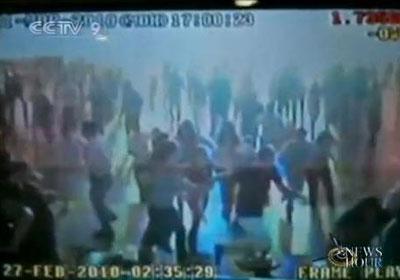 A disco club in Chile's capital, Santiago, has released an amateur
video, recording the very moment when the earthquake struck.
(CCTV.com)
Editor: Zhang Pengfei | Source: CCTV.com