Chilean president pleads with people to help with relief efforts
2010-03-04 13:26 BJT
Special Report: 8.8 Magnitude Earthquake Hits Chile |
Chilean President, Michelle Bachelet, has pleaded with Chileans to stop hoarding supplies and help with relief efforts. But it hasn't helped to relieve the tension after the quake.
Four days after the 8.8-magnitude quake, the death toll in central Chile has reached more than 800.
Tensions are still running high in the disaster area, with President Michelle Bachelet urging people to remain calm.
Michelle Bachelet, Chilean President, said, "There is no shortage of supplies, there is enough food, people in the places where stores are closed must have patience and keep calm. We are going to send goods, stores and banks will reopen, we will soon be back to a relatively normal situation."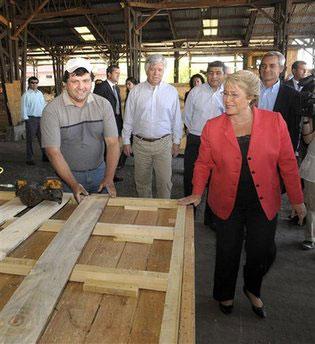 In this photo released by Chile's Presidency, President
Michelle Bachelet visits a factory of emergency houses
in Santiago, Wednesday, March 3, 2010.
(AP Photo/Alex Ibanez, Chile's Presidency)