Aid continues to pour into Chile 5 days after quake
2010-03-04 13:26 BJT
Special Report: 8.8 Magnitude Earthquake Hits Chile |
Aid has continued to pour into Chile, five days after the earthquake hit. Latin American nations have bolstered the Chilean army efforts to distribute food aid in disaster zones.
A team of Cuban doctors specialized in emergency situations and natural disasters landed in Chile's capital Santiago early on Wednesday.
A separate team of Venezuelan emergency workers were also due to arrive later in the evening. The Venezuelan government has supplied man power to complement its donations of food and water.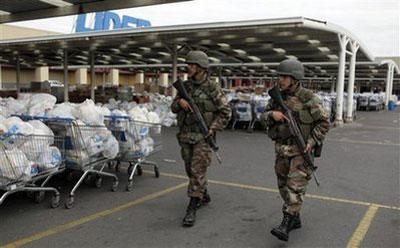 Soldiers walks past bags containing aid to be distribute among
earthquake victims at a supermarket in Concepcion , Chile,
Wednesday, March 3, 2010. (AP Photo/Natacha Pisarenko)