Blackout darkens parts of Chile
2010-03-16 12:41 BJT
Special Report: 8.8 Magnitude Earthquake Hits Chile |
Millions of Chileans were left without power on Sunday evening after a transformer failed in the country's electricity grid. As of Monday, most of Chile's power supply had been restored.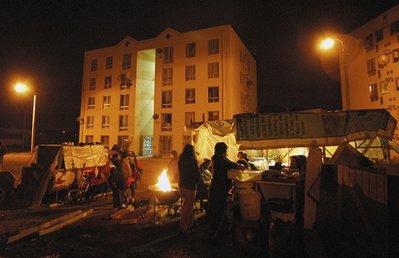 People stand in a camp outside their buildings shortly after a
6.7-magnitude aftershock in Concepcion, Chile, Monday, March 15,
2010. Aftershocks rocked the country on Monday night, in the aftermath
of the Feb. 27 earthquake which was the fifth-strongest since 1900.
(AP Photo/Ignacio Vasquez)
Sunday's blackout left most of the country without power, including the capital Santiago. Chile's National Emergency Office said that in some zones service will remain unstable. An investigation is being carried out to determine whether the blackout was due to human error or maintenance failure. Meanwhile, the Energy Minister Ricardo Raineri said that the system will be improved over the next six months. But he added that there is a possibility of more blackouts.
Chilean Energy Minister Richardo Rainieri said, "This situation could be related to a collateral effect of the February 27th earthquake when the electrical system was left in a very fragile state. It will be gradually repaired in the upcoming months."
Editor: Zhang Ning | Source: CCTV.com