Two weeks after a magnitude 8.8 earthquake struck Chile, aftershocks continue to rock the country. Scientists from around the world have converged in the quake zone. They are trying to collect data they hope will help them better predict future quakes and tsunamis that often follow. Now Xu Jiaying takes us to Constitucion, the epicenter of the devastating quake, to find out what lessons can be learned.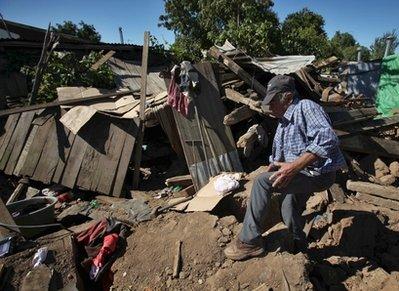 Earthquake victim Jose Cerda, 83, enters in his destroyed house in
Parral, Chile, Monday, March 15, 2010. An 8.8-magnitude earthquake
hit central Chile last Feb. 27, causing widespread damage.
(AP Photo/Martin Mejia)
This once seaside forest is now a barren landscape.
The forces of the giant tsunami that killed 500 people and damaged thousands of homes can be clearly seen along the coast near Constitucion.
People here are trying to pick up the pieces, salvaging what they can from the debris and brushing away the tonnes of sand dumped by the waves.
But some other people are also working on a short timetable.
Tsunami experts are running out of time to collect evidence before it is cleaned up.
Watermarks on building, the bark damage to trees, flooding marked by brown vegetation and sand deposits, all these can tell how powerful the tsunami was.
Hermann Fritz, tsunami expert of Georgia Institute of Technology Savannah,said, "Inundation, and the run-up height that tsunami. That information is very critical both for the mitigation of future tsunamis, because it gives an indication of how vulnerable a certain location is and how it is typically going to be flooded by a tsunami."
Fritz estimates the quake caused a 10 meter high tsunami in Constitucion. That's why many families camping out were killed in this submerged island, when they were celebrating the end of the Chilean summer.