Attackers have killed at least 13 people in a central Nigerian village. It's the latest outbreak of violence in a region where hundreds have died from sectarian fighting this year.
One witness says raiders with machetes entered the Christian enclave early Wednesday morning. Most of the victims were women. At least three huts were burned.
The assault took place despite a "dusk to dawn" curfew in the state of Plateau, which lies at the crossroads of Nigeria's Muslim north and Christian south.
The area also suffered through a heavy clash in January, which killed more than 400 people. Competition for control of fertile farmlands among different sectarian groups has repeatedly triggered unrest in the region.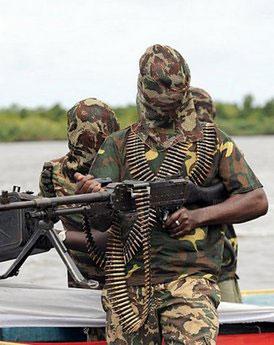 Fighters with the Movement for the Emancipation
of Niger Delta (MEND) prepare for an operation
against the Nigerian army in Niger Delta in 2008.
(AFP/File/Pius Utomi Ekpei)
Related stories
Editor: Zhang Pengfei | Source: CCTV.com