Anti-drought efforts in S.W. China
2010-03-19 11:51 BJT
Special Report: SW China Battles Severe Drought |
Lingering drought is continuing to wreak havoc in southwestern China. The worst-hit areas include Yunnan, Guizhou and Sichuan provinces and the Guangxi Zhuang Autonomous Region and Chongqing Municipality. Local governments are teaming up with people to fight the drought.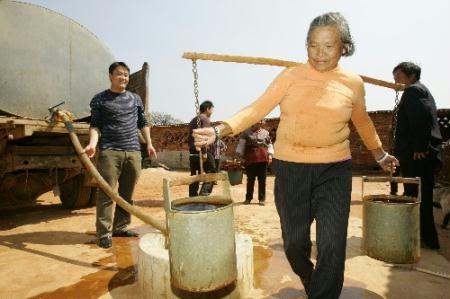 Local governments have rationed water to each household.
In Guizhou Province, nearly 730,000 hectares - or a sixth of total farmland - has been parched by drought. While weather forecasters predict some rainfall in many parts of the province, the volume is far from enough to break the drought.
Local governments have allocated ten work teams to help farmers transport water and irrigate the land.