Rain brings relief to Yunnan province
2010-03-29 13:09 BJT
Special Report: SW China Battles Severe Drought |
The drought afflicting Southwest China's Yunnan province has been quenched by a downpour. According to the local meteorological department, the cloudburst has brought relief to several areas in the province. Meanwhile, armed police are helping residents cope with insufficient water.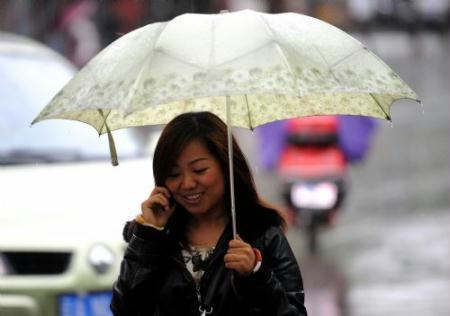 A woman holds an umbrella as she walks in the rain in Kunming, capital of
southwest China's Yunnan Province, March 28, 2010. The rainfall brought some
relief to parched Yunnan Province on Sunday as a severe drought ravages
southwest China.(Xinhua/Lin Yiguang)
Much needed relief for drought-hit Yunnan province.
Although it's not heavy, in the provincial capital Kunming the rainfall is bringing hope to people struggling for water.
A Kunming resident said, "I am very happy because of the rain. The drought has been lingering too long, making drinking water a big concern. I wish the rain could last longer."
The cloudburst brought heavy downpours to other places in Yunnan, such as Pu'er and Nujiang. Meteorologists say the rainfall is expected to last up to 36 hours.
But for many in the drought-stricken areas, the downpours won't totally ease their difficulty in finding sufficient water.
Here in this primary school in Shilin, most of the students haven't had a shower for three months.
A teacher said, "The pupils' hair is disheveled. A few of them are lucky to have their hair washed. Their hands, especially the boys' are dirty and black. "