President Hu mees Japanese, Ukrainian leaders
2010-04-13 13:44 BJT
Special Report: Hu Attends 2 Summits, Visits 3 Nations |
President Hu Jintao also met with Japanese and Ukrainian leaders attending the Nuclear Security Summit.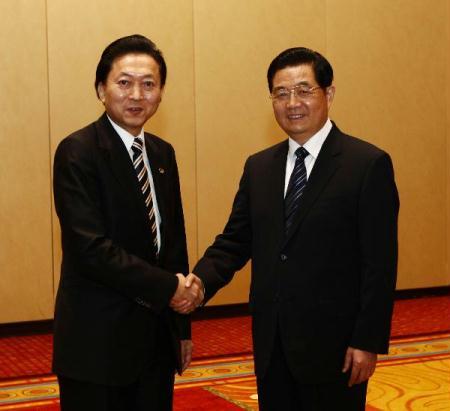 Chinese President Hu Jintao (R) meets with Japanese Prime Minister Yukio
Hatoyama in Washington April 12, 2010. President Hu Jintao arrived in Washington
on Monday to attend the Nuclear Security Summit slated for April 12-13.
(Xinhua/Liu Weibing)
During talks with Japanese Prime Minister Yukio Hatoyama, Hu Jintao called for boosting the strategic relationship between the two countries. He also proposed enhancing cooperation in the process of Asia's integration.
Hatoyama says Japan is willing to work with China and transform the East China Sea into an area of friendship and cooperation. He says Japan wants to strengthen technological cooperation in environmental protection.
While meeting with his Ukrainian counterpart, Viktor Yanukovych, Hu Jintao called on both sides for greater dialogue, trust and cooperation. Yanukovych says Ukraine wants to promote friendship and cooperation with China.