Leaders vow to ensure nuclear security
2010-04-14 14:11 BJT
Special Report: Hu Attends 2 Summits, Visits 3 Nations |
The 47-nation Nuclear Security Summit has ended in Washington. Leaders have agreed to take joint action to prevent terrorist groups from obtaining nuclear weapons.
The host, U.S. President Barack Obama says the summit makes the world safer.
The two-day summit focused on the dangers of nuclear terrorism.
Obama says many militant groups including Al-Qaeda are trying to obtain nuclear materials.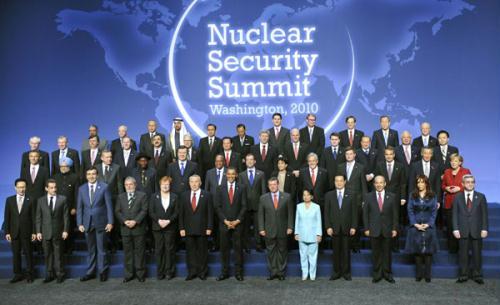 Chinese President Hu Jintao(4th R,front)poses for a group photo with other world
leaders during the Nuclear Security Summit at the Washington Convention Center in
Washington,April 13,2010 0.(Xinhua/Li Xueren)