Nuclear Security Summit work plan
2010-04-14 14:11 BJT
Special Report: Hu Attends 2 Summits, Visits 3 Nations |
The Washington Nuclear Security Summit Work Plan 2010 supports the Communique of the Summit. It also constitutes a political commitment by all the participating nations.
The Work Plan outlines several key points:
Recognizing the importance of the International Convention for the Suppression of Acts of Nuclear Terrorism as an important legally binding multilateral instrument.
Noting the need to fully implement the UN Security Council Resolution 1540 on preventing non-State actors from obtaining weapons of mass destruction, their means of delivery and related materials.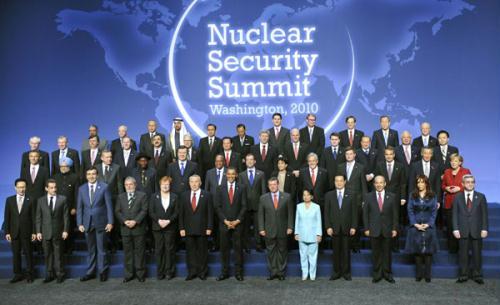 Chinese President Hu Jintao(4th R,front)poses for a group photo with other world
leaders during the Nuclear Security Summit at the Washington Convention Center in
Washington,April 13,2010 0.(Xinhua/Li Xueren)