Li Fuyu wins time trial
2009-10-25 11:50 BJT
Special Report: 11th National Games |
Watch Video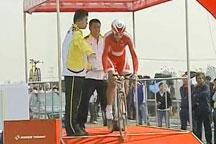 Play Video
Two riders pedaled to gold medal victories in road cycling at the National Games. First, local Shandong cyclist Li Fuyu won the men's individual time trial for his second career National Games gold medal.
The total length of the time trial was 40 kilometers, and Li Fuyu was the last to start. The event requires good stamina, and is not the 31-year-old's forte.
The best time before Li was set by Tianjin's Luo Jianshi. Just as the partisan crowd thought that Li would not be able to catch up, he proved them wrong by beating Luo's time in 53 minutes 45.9 seconds. This was Li's second gold medal at the Games maybe sweeter than the first one.
In the women's time trial, Liaoning's Zhag Yuzhuo won the gold medal. Two-time champion Li Meifang finished only 7th.
Editor: Zhang Pengfei | Source: CCTV.com