We turn our focus to a sport that has a short history in China, half-pipe snowboarding. It only emerged in China in 2003, but has produced one of the very best snowboarders in the world. Her nameis Liu Jiayu.
In Saturday's series, we will introduce you biathlon athlete Liu Xianying. From rookie to veteran, Liu now looks forward to grabbing medals at the Vancouver Games.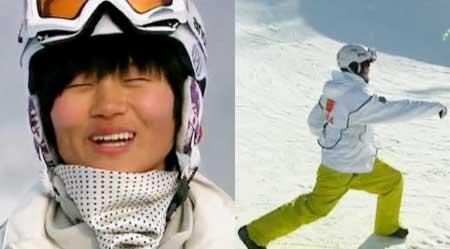 Liu Jiayu
You may not recognize this girl with the sun-kissed face and short hair, but there is a good chance that after the Winter Olympics you will.
Only 19-years-old, Chinese snowboarder Liu Jiayu has seemingly unlimited potential, and the large part of her career ahead of her.
She has already recorded five World Cup victories in 15 starts.
In 2009, she grabbed China's first ever gold medal at the World Championships in South Korea.
On a meteoric rise, Liu has become the world No.1 in women's half-pipe.
Her early success and promising future represents a major shift in women's snowboarding, dominated for years by North Americans.
Liu has become known for her solid rides combining exceptional technique with great air.
Chinese Wushu has also played a part in Liu's success.
She practiced Wushu for three years before beginning her snowboarding career.
Now, she still uses Wushu as a warm-up before her runs.
Liu Jiayu said, "The flip in Wushu and the flexibility needed in Wushu are the same in snowboarding."
The extreme nature of snowboarding can often result in injuries, and in November, Liu fell victim. While competing in Japan mere months before the 2010 games, Liu crashed during a run, injuring her shoulder.
Thankfully, the injury did not require surgery and she recovered relatively quickly. However, the process to regain her top form was a painful one for Liu.
But, just like when she started her sport, Liu remained optimistic during all the hard times.
Liu said, "It really hurts. Sometimes, I have bruise on my hip. But, it is a process. You have to learn from the falls. Every snowboarder must experience that."
Now, the world champion is confident to take her lessons into the half-pipe at the Olympics.
Liu said, "I will show my top form to the world. It is a new sport for China, but I will prove that Chinese can do the sport. My only rival is myself."
Editor: Liu Fang | Source: CCTV.com