Vancouver 2010 special series: Chinese biathlon athlete
2010-02-07 12:01 BJT
Special Report: 2010 Vancouver Winter Olympic Games |
Vancouver 2010 will mark the fourth Winter Olympics for biathlon athlete Liu Xianying. The 33-year-old veteran has been practicing her sport for 17 years.
Liu has yet to win an Olympic medals or world titles, but her love and devotion to the sport make her a real champion.
In our next installment on Monday, we will look at China's top freestyle skiers Li Nina and Han Xiaopeng. Li, the silver medalist at the Turin Games is aiming for nothing but gold this time while Han face the big challenge of defending his Turin title.
Liu Xianying, Chinese Biathlon Athlete, said, "I started practicing biathlon with the Army Skiing Team when I was 16. I love the sport so much. Even now, I still deeply love it."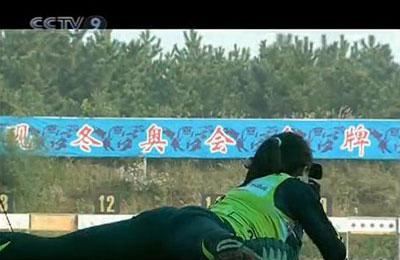 Vancouver 2010 will mark the fourth Winter Olympics for biathlon
athlete Liu Xianying. The 33-year-old veteran has been practicing
her sport for 17 years. (CCTV.com)