Fed Cup now the world group 1 competitions saw Russia, four-time Fed Cup champions, win the decisive doubles match on Sunday to defeat Serbia three-two in their quarter-final clash and set up a meeting with the United States in the last four.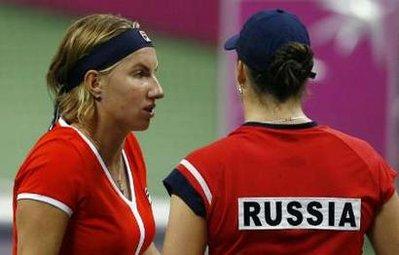 Russia's Svetlana Kuznetsova (L) chats with team mate Alisa Kleybanova
during their Fed Cup tennis match against Serbia's Ana Ivanovic and
Jelena Jankovic in Belgrade February 7, 2010. REUTERS/Marko Djurica
The first singles match saw Jelena Jankovic up against Russian Svetlana Kuznetsova. Jankovic breaks Kuznetsova with double backhand smash to go 2-1 up in the 3rd game and going on to win the first set 6-3. Kuznetsova fought back to take the second set 6-4 and force the match into decider. The Russian saved the 3rd match point in the deciding set. However, Jankovic won her fourth match point when Kuznetsova hit net, earning the first point for Serbia.
But Serbia's lead didn't last long in singles games. former world number one Ana Ivanovic continued her recent poor form going down to Alisa Kley-banova 6-2, 6-3.
The worse was still to come when the two Serbians paired to face the Russian duo. Kuznetsova and Kley-banova dominated the first set before Jankovic and Ivanovic threatened a comeback which proved to be short lived. The Russians finally recovered from an early break of serve to bounce back and complete their triumph with a 6-1, 6-4 victory in the doubles.Russia will face the United States while Italy beat Ukraine 4-1 and will face the Czech Republic for a place in the final.
On the same day, China were knocked out of the Fed Cup world Group 2 competitions, after being beaten by Slovakia 3-2.
Editor: Zhang Ning | Source: CCTV.com