Vancouver 2010 special series: Zhang Dan and Zhang Hao
2010-02-10 10:48 BJT
Special Report: 2010 Vancouver Winter Olympic Games |
They may not be the most famous figure skating pair in China, but they do have China's best pairs finish at a Winter Olympics.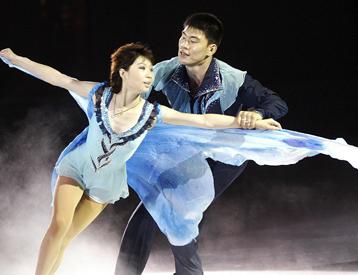 Zhang Dan and Zhang Hao
Zhang Dan and Zhang Hao won the silver medal at the 2006 Turin Games, and are aiming higher in Vancouver their third Olympics.
It was four years ago. But, the touching performance of Zhang Dan and Zhang Hao remains unforgettable for many Chinese figure skating fans.
Their determination and emotional programs, echoing the spirit of the Olympics.
Despite the earlier fall that left Zhang Dan badly hurt the pair put in a gutsy final performance to win the silver in Turin. It is China's best pairs figure skating finish at a Winter Games.
On that night, they earned their fame and set the tone for their career.
Zhang Dan said, "We made history for China by winning the silver medal. It is unforgettable."