Cypress Mountain receives snowfall
2010-02-11 16:24 BJT
Special Report: 2010 Vancouver Winter Olympic Games |
Warm weather has been wreaking havoc on the Olympic freestyle venue at Cypress Mountain but it looks like fears over a snow crisis are subsiding, as the mountain has finally received a fresh snowfall.
Organisers of the Vancouver Games breathed a sigh of relief on Wednesday as Mother Nature finally cooperated and snow began to fall on the barren hills.
Temperatures hovered just below freezing so the rain that was falling in Vancouver turned to snow.
After the warmest ever January in Vancouver organisers started moving snow from other areas of Cypress to the competition site.
Trucks were moving snow 24 hours a day and the helicopters were operating constantly during daylight hours, except when skier were training.
Now organisers just have to hope the temperature stays below freezing so the rain forecast for the next couple of days will come down as snow at Cypress.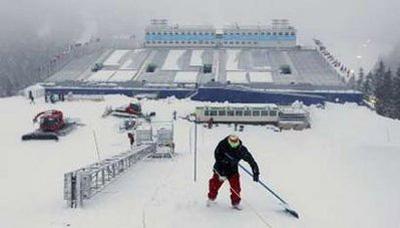 A skier is seen during a training run on the moguls course at
Cypress Mountain in West Vancouver, British Columbia, Tuesday
February 9, 2010 for the 2010 Vancouver Olympic Winter Games
in Vancouver. (AP Photo/The Canadian Press, Jonathan Hayward)
Editor: Zhang Pengfei | Source: CCTV.com