As part of his work for the Roger Federer Foundation, the tennis world number one visited school children in Ethiopia. It was his first trip to see the impact his charity is making in the country.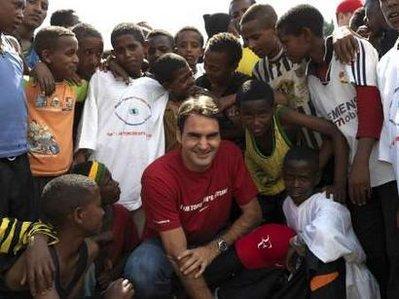 REFILE- REMOVING RESTRICTIONS Tennis player Roger Federer of Switzerland
poses with students at a primary school, funded by his charity,
the Roger Federer Foundation, in Kore Roba February 12, 2010.
Federer was in Ethiopia for a one-day visit to see the work his
charity does.REUTERS
The Swiss star was given a warm reception by hundreds of pupils who sang "Father Roger" as he walked towards the school. His charity project donates nearly 93,000 US dollars a year. This supports two primary schools and 700 children north of the capital Addis Ababa. Fresh water and sanitation are some of the improvements made as a result of Federer's contribution, with the donations also going towards paying extra teachers and increasing the amount of tuition for girls.
Roger Federer said, "I think upon arrival when they were singing the song, you know, 'Father Roger, we're so happy to see you here, welcome' and everything. Very touching, of course, and then just seeing them happy, you know, when I went to visit them in the schools, when I did sports with them, see how eager they are to do well and show what they can. And I just think the beautiful country. I really have been very warmly received here and, of course, it's one of those things that wants to make...makes you come back actually in the future."
ALL FOR CHARITY
Ethiopia is the major world power in long-distance running, so Federer must have known he would not have things his own way in a one-kilometer cross-country race. It was a bit of a workout for Federer, who managed to find time in the hectic tennis calendar to give books and educational materials to the village, and in return, received some gifts of his own.