CCTV studio discussion: Shen Xue and Zhao Hongbo lead after short program
2010-02-15 15:51 BJT
Special Report: 2010 Vancouver Winter Olympic Games |
Nick: Joining us in the studio is Jonas, and for China's top figure skating pair of Shen Xue and Zhao Hongbo, it was a great New Year's Day and Valentine's Day for that matter in Vancouver for the married couple.
Jonas: It certainly was, the pair who have won pretty much everything there is to win in the sport, with the exception of an Olympic Gold have gotten off to a fantastic start in Vancouver.
Shen and Zhao skated first after drawing the opening spot for the pairs short program and set a mark that would not be touched.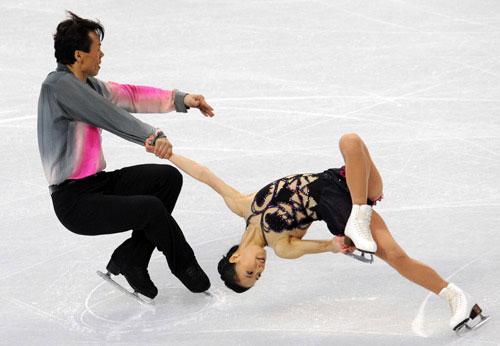 China's Shen Xue (R) /Zhao Hongbo perform in the pairs short program of figure
skating at the 2010 Winter Olympic Games in Vancouver, Canada, on Feb. 14, 2010.
(Xinhua/Yang Lei)