Turning to club football in Spain Barcelona restored its two-point lead at the top of La Liga. Lionel Messi drove the champions to a hard-fought home win over Malaga on Saturday.
Pedro started in place of France forward Thierry Henry. He finally broke a scoreless tie in the 68th minute. Pedro scores from long range and Barca takes a 1-0 lead.
But stubborn Malaga fought back, Valdo stunned the home side with a breakaway equaliser in the 81st 1-1.
Malaga looked good for the draw and a point in the standings, but Spainish midfielder Xavi would get the last word. He delivered the pass to Daniel Alves and Messi tapped in the winner in the 84th-minute. Barca beats Malaga 2-1.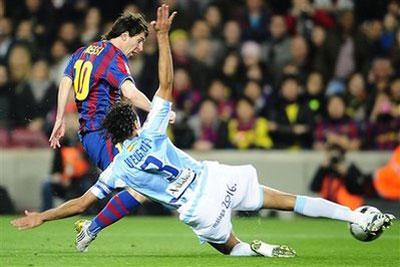 FC Barcelona's Lionel Messi of Argentina, left, duels for the ball
against Malaga's Weligton from Brazil during a Spanish La Liga
soccer match at the Camp Nou stadium in Barcelona, Spain, Saturday,
Feb. 27, 2010. (AP Photo/Manu Fernandez)
Editor: Zhang Pengfei | Source: CCTV.com