Jamaican sprinter Usain Bolt is a repeat winner off the track. He picked up the Laureus Sportsman of the Year award for the second straight year on Tuesday. American tennis star Serena Williams won the top woman's prize at Abu Dhabi.
The seven-star Emirates Palace Hotel hosted the show billed as the "Oscars of Sport". The Laureus awards are now in their eleventh year of recognizing sporting achievement and, through their charitable foundation, promoting sports-related projects around the world. Usain Bolt's sporting effort in 2009 was judged to outpace all others.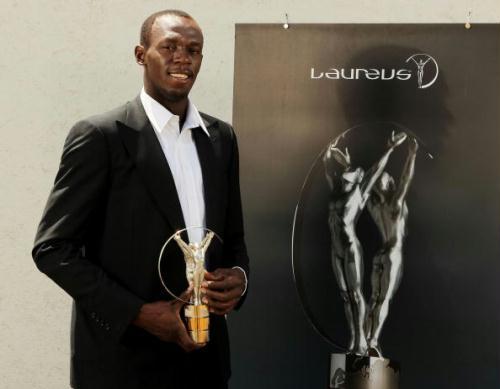 In this image released by the Laureus Awards on Wednesday March 10, 2010, Jamaican
sprint star Usain Bolt poses with the Laureus World Sportsman of the Year Award in
Kingston, Jamaica. Bolt who won the Laureus World Sportsman of the Year for the
second year running, was unable to attend the awards ceremony in Abu Dhabi, UAE, on
Wednesday.
The 23 year-old Jamaican won three gold medals at last year's athletics world championships, and set world records in the 100 and 200 metre events.
Ed Moses says, "And the winner is... Usain Bolt... Hello, congratulations Usain...
Usain Bolt says, "What? I won? I won? Oh, I won. Good afternoon."
Ed Moses says, "Can you hear us?"
Usain Bolt says, "Yes, I can."
Related stories