The United Nations Children's Fund has unveiled Argentine star Lionel Messi as its newest Goodwill Ambassador at a ceremony in Barcelona, where he plays his club football.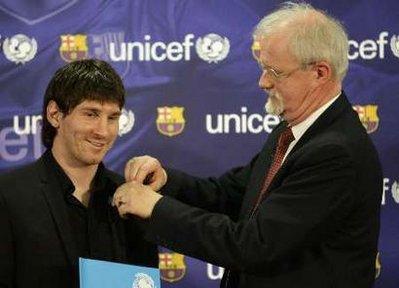 Barcelona's player Lionel Messi of Argentina receives a badge from
UNICEF Private Fundraising and Partnerships Director Philip
O'Brien at the Nou Camp stadium in Barcelona March 11, 2010. He is
the first Barcelona player to be awarded as a UNICEF Goodwill
Ambassador and will work to promote children's rights.REUTERS/Gustau
Nacarino (SPAIN - Tags: SPORT SOCCER SOCIETY)
The Barcelona forward and current FIFA World Player of the Year will work with UNICEF on a series of events to highlight the challenges faced by vulnerable children around the world and support children's rights.
UNICEF said that while Messi's accomplishments as a player are well known, it is his determination to use his fame to help the world's most vulnerable children that has led to his appointment.
Lionel Messi of UNICEF Goodwill Ambassador says, "Thanks to UNICEF for choosing me as a Gooodwill Ambassador. It is a very important responsibility for me. I hope that in my role as a global Goodwill Ambassador for UNICEF I will be able to help children who need our help. I know that many institutions and governments are helping but I want also to make a contribution."