A rampant Lionel Messi scored a stunning hat-trick for Barcelona in a home victory over Valencia in La Liga.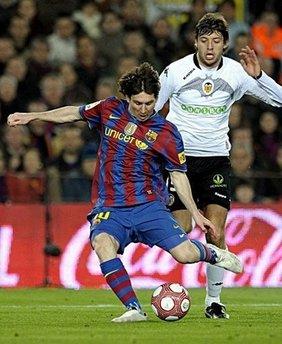 Barcelona's Argentinian forward Lionel Messi
(L) vies with Valencia's defender Angel
Dealbert (R) during their Spanish League
football match between Barcelona and Valencia
at Camp Nou stadium in Barcelona. Messi scored
a sensational hat-trick to take his season's
tally to 22 goals as Barcelona returned to the
top of the Spanish Primera Liga with a 3-0 home
victory over 10-man Valencia on Sunday.(AFP/
Lluis Gene)
2nd half, Barcelona looked the stronger side in the first half, with a great run from Messi.
56th minute in the second half, after a period of sustained pressure from Barcelona, the mighty Messi finally put the Catalans ahead. Barcelona 1-0.
In the 81st minute, Messi was a man on a mission and he doubled his tally with a cunningly curved shot. Barcelona 2-0.
Related stories