The injured achilles tendon of David Beckham has undergone succesful surgery in Finland. It's believed Beckham will miss July's World Cup. His foot is scheduled to be in a cast for around six-eight weeks, after which he can start "more vigorous" physiotherapy.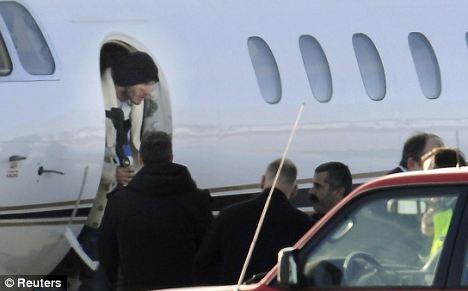 Welcome to Finland: Beckham arrives at Turku airport
Less than 24 hours after picking up the Achilles injury in the closing minutes of AC Milan's 1-0 win over Chievo Verona, David Beckham was landing at Turku airport in Finland aboard a private jet as he made an effort to keep his World Cup dreams alive.
Just after 4 pm local time Monday Beckham arrived at the hospital surrounded by security guards amid cheers from hundreds of fans who had gathered outside the entrance.
Looking understandably upset, the 34-year-old was forced to wait whilst the doors to the hospital garage were opened before being whisked inside.
The doctor says while it is not realistic to expect Beckham to be fit for the World Cup just three months after surgery, there remains "a glimmer of hope" that he could be back for the June 11-July 11 tournament in South Africa.